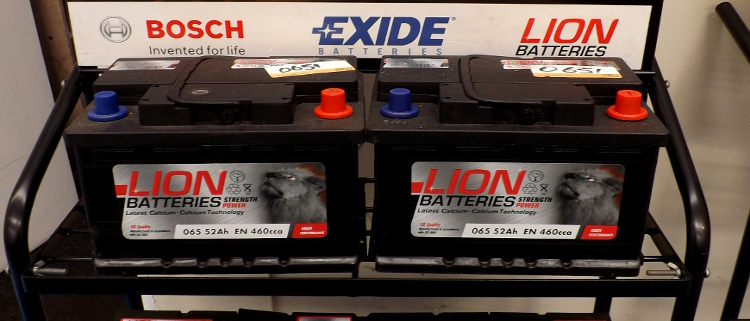 Car Batteries
Checking the condition of your car battery and battery charging system is a service available at Xpress garage and takes around 5 minutes to complete.
Xpress carry batteries to fit the largest selection of car and light commercial vehicles in stock and are ready to fit should your battery fail.
We have a full range of different car batteries in stock ready to be fitted at any time. You can call us if you are worried about your car battery and we will offer free guidance and advice. Call a member of the team on 01326 377977 or visit send us an email.
Free Battery Test
This simple but effective test, which includes checking the charging system, voltage output and the charging rate of the battery will indicate whether a battery failure is imminent or not by comparing the test result against the manufacturer's specification.
Xpress will provide thorough check of your battery with a digital print out for your records completely FREE OF CHARGE!
Your car battery is the only power source used for getting your car started. Industry sources say that 1/10 vehicle batteries are poised to fail. So it is important that you maintain a good healthy battery if you are to avoid becoming a roadside 'breakdown' statistic.
Get Your Free Test
Don't get caught out in the cold this winter call in to Xpress for a battery check today.

Massive selection of batteries to fit cars and light commercial vehicles in stock.

Xpress garage battery test takes around 5 minutes to complete!

Free digital print out of your results.

Faulty batteries are one of the main reasons for breakdown calls in the UK
You can call Xpress Garage today on 01326 377997 for further info or simply pop in to claim your free battery test. 
We stock a variety of batteries
Here at Xpress we have a huge selection of batteries to suit all types of vehicles. Our free test is available to you no matter what size you vehicle is. Below you will find more detailed information about our battery stock and our battery services.
Car batteries
Xpress Garage have Car Batteries in stock to fir over 95% of vehicles on the roads today.You can be pretty sure that we have what you need. We stock, sell and fit standard car batteries that come with a guarantee through to our power enhanced batteries which can give up to 45 % more power.
Stop start batteries
Start-stop technology can be found in an increasing number of new cars as manufacturers seek to reduce the CO2 emissions produced by their vehicles. Manufacturers including BMW, Audi, Volkswagen and Fiat are strong advocates of start-stop technology.
Leisure batteries
We stock a full range of leisure batteries to suit all types of application. Whether you require a battery for light cyclic duties for lighting, or a heavy duty deep cycling bank of batteries to bring you power in even the remotest mobile application, we have a battery to suit your needs.